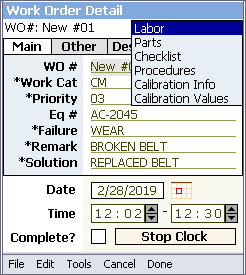 iFAMS Mobile provides a fast, easy and accurate way to collect data. Reduce your data entry errors and save time. iFAMS Mobile comes bundled with the Barcode Option, which provides a complete solution for going paperless.
Wireless or Batch
iFAMS Mobile is available in both a wireless and a non-wireless version. While the wireless version requires more hardware setup such as access points etc., it allows you to update and view data live from your database without ever having to return to a computer. The non-wireless version has the same feature set, but requires you to return to a computer to synchronize the PDA in order to update the iFAMS database.
Hardware
A complete hardware and software solution is available, including several ruggedized PDAs (both Windows Mobile and Palm), barcode scanners and dedicated barcode printers. Click here for a hardware product list.
iFAMS Mobile features include:
Track Assets
Create Work Orders on-the-fly
Load and update existing Work Orders
Issue and receive parts and tools
Perform Physical or Cycle Counts
Collect Meter readings
Record Calibrations
Record Fuel transactions for your fleet
Print barcode labels