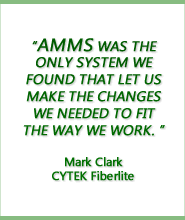 AMMS (Advanced Maintenance Management System) is the only comprehensive and easy-to-use maintenance management system (CMMS/EAM) that gives you complete control without any database or programming knowledge. Thanks to MicroWest's innovative techniques, you can customize the application using drag-and-drop screen designers, report writers, etc.
Full Featured
AMMS fully integrates all aspects of Maintenance - Equipment, Preventive Maintenance, Work Orders, Labor and Outside Contractors, with Spare Parts Inventories, Purchase Orders, Vendors, and Budget Accounts. AMMS is designed to give you detailed activity history information enabling you to track, plan and manage both maintenance and inventory efficiently.
Smart Features
Smart features allow you to start working with AMMS on day one:
Add Equipments and Employees on-the-fly while writing Work Orders and PMs. This allows you to start building your database as you go.
Add Parts and Vendors on-the-fly as you write Purchase Orders, or use parts on Work Orders.
Use the screen changer to set up simple data entry screens for individual employees that reflect their individual needs, and select which tables, functions and fields they are allowed to use. You can simplify security setup by creating security groups, and assign employees to each group.
With associative jumps, you can jump to any linked record on any form using mouse-over hotlinks, by keystroke using hotkeys or by using the Outlook-style side-bar.
Scalable
AMMS is fully scalable CMMS, all the way from single or few-user Pervasive or SQL Server Express based systems up to large Enterprise-wide SQL Server and Oracle based systems. AMMS can grow with you: start with one or several small systems, and scale up to one large, integrated multi-site system as your needs grow.
Modular
AMMS is a modular application with powerful options that are fully integrated with each other. Many software companies force you to purchase a large application that contains a lot of features that you will never use. MicroWest's AMMS allows you to select only the features that you really need, thereby both lowering the cost and simplifying the use of the application. If you later need to increase your capabilities, it is easy to add the features you require.