TCS Mobile provides a fast, easy and accurate way to collect data. Reduce your data entry errors and save time. TCS Mobile comes bundled with the Barcode Option, which provides a complete solution for going paperless.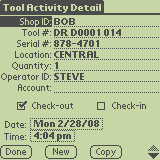 Efficiency
The key to efficiency in a Tool Crib is barcoding. With a barcode on every Tool, Kit and Location in addition to bar-coded badges on personnel, checking in and out is fast and accurate.
Barcode Printing
This module allows you to print barcode labels straight out of the TCS application. In addition, with TCS Mobile, the Tool Crib operator carries a Windows Mobile or Palm PDA with them. As they collect Tools and Kits and scan their barcodes, they are automatically checked in or out.
Hardware
A complete hardware and software solution is available, including several ruggedized PDAs (both Windows Mobile and Palm), barcode scanners and dedicated barcode printers. Click here for a hardware product list.
TCS Mobile features include:
Check Tools In and Out
Check Kits In and Out
Receive Tools on Purchase Orders
Perform Physical or Cycle Counts
Print barcode labels