Change screens to suit the specific needs of your business!
One of the major reasons our clients choose AMMS is because it is so flexible and because they can control it themselves with minimal IT support. The key is the User Customization System (UCS) which lets you:
Change the name, length and position of any field
This makes AMMS the perfect fit for any environment.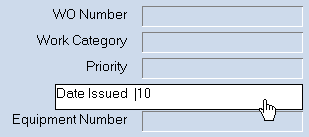 Add and remove fields and change field legends, positions and lengths. In addition, every table has 5-15 user fields that have no pre-defined use in the system. You decide the field type, legend, and position of the fields and add them as necessary. No programming or database knowledge is necessary, just add the field and drag it into position with an easy-to-use wysiwyg interface. Screen layout changes can be made either global for all users, or specific for certain users or user groups.
Generate ad hoc reports and forms
The drag-and-drop Easy Report Writer helps you generate necessary reports fast. Track maintenance performance - identify your hot spots and have the numbers in black and white to support you. The report writer is fully integrated with the application - no need to open other programs to run your reports; you can view them and print them from inside the application, or create PDFs and email them straight out of the program. Should you want to write reports externally, such as in Crystal Reports, you can do that too, since AMMS works with major SQL database back ends such as Microsoft SQL Server, Oracle and Microsoft Access. You can also create your own custom forms to print Work Orders, Purchase Orders, Spare Parts Lists and more, as well as custom barcode labels for parts, equipments, locations, etc.
Create portlets for KPI dashboards

Set up KPI dashboards for managers and supervisors to quickly view the state of your system. You can create gauges, graphs, reports and text messages to measure any metric in the application.
Create custom export and import formats
Transfer information to and from any program using user-definable text formats. Specialized data interchange formats are also possible with custom software.
Create macros
Save time and effort by capturing keystrokes and mouse movements and actions in macros which can be executed with a single key press. This allows you to automate any task, even very complicated ones. You can even set macros to run unattended at specific time intervals.
Customize Help and Messages
You have access to the full text of Help and all Messages. Help is available for every field and function on every screen, so you can customize the Help to better suit your needs. You can also add help for any new user fields that you add. Messages can also be changed if you desire.
Create look-ups
You can create lookup tables for any field on any screen, thereby standardizing data input. You can set force field check on any field to make sure that only the correct data is entered.